【Simple Operation】: The Light up glasses has only one control button, and the switch of led visor glasses and the switch of light-emitting mode can be controlled by long press and short press. The control button is located on the left side of the glasses near the auricle. When you press this button with your index finger, you will find that this is a very cool posture, which has a sense of future technology.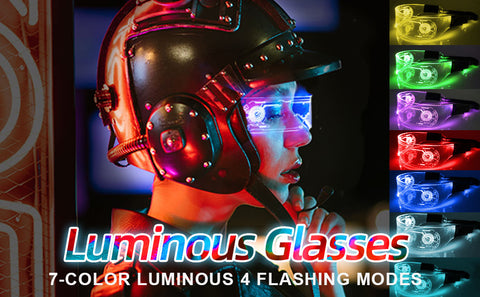 【Cool Lighting Effects】: The led Cosplay Goggles is designed with 7 colors of light, namely red, green, dark blue, yellow, light blue, purple, and white. In addition, there are 4 flashing modes, namely Monochrome, slow flash, fast flash, and gradient. Wearing these glasses you will be the most eye-catching focus of the audience.

【USB Rechargeable】: LED Visor Glasses have a built-in rechargeable battery, which can last for 3-4 hours after a single charge. Use a USB cable (included) to charge it. You can charge it using a mobile phone USB socket , a computer USB socket, or other USB sockets that can provide power, even when you are on the way to a party or a concert. It is charged by a power bank.
The regular version is powered by a button battery.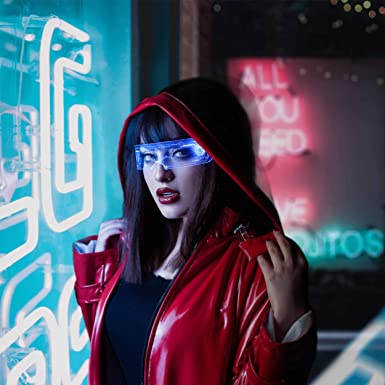 Specification:
Plastic frame
Plastic lens
Non-Polarized
Lens width: 6.1 inches