Rotating Candy Box will be the perfect snack box for your family and friends!
Rotating Candy Box has a knob on the top which can be rotated counterclockwise or clockwise to open or close its storage compartments respectively. The storage compartments are shaped like flower petals and it looks like a flower is bloomed when we open it and vice-versa. You can also detach the different parts and compartments to clean them and assemble them back later.
It is available in two different sizes and can be used to store any eatable. It can also be used as a lunch box to carry your favorite dishes to work or school. Not just eatables, you can store your jewelry or make-up inside it.
FEATURES:
Use it with a Twist: The main attraction of Rotating Candy Box is that it is very easy to open and close. Apart from that, it is very pleasing and satisfying to look at and fairly easy to use, just turn the knob to the left to expand the petal-shaped compartments and turn it to the right to bring it back to its original shape. It has a very simple operation so it can be used by kids and adults alike.
All-in-One Box:  Rotating Candy Box can be used to store and serve any snack like candies, wafers, cookies, dry fruits, sweets, berries, etc. You can use it in the kitchen to store your spices as well. You don't have to buy separate containers for your snacks if you have Rotating Candy Box.
Ready to Serve: If you have any unannounced guest or guests at your doorstep, blow their mind with Rotating Candy Box as it is ready to serve. It doesn't trap humidity keeping your snacks fresh for longer and you are ready for snacking anytime.
Chic and Elegant Design: It has a very elegant flower-like design. There are five separate compartments that are spacious enough to serve your whole family during snack time. No matter where you place it in your home, it will always add to your home decor. The colors used are also very soothing.
Specifications
Material:  ABS

Color:  BLUE/PINK

Size: 27cm x13cm (The expanded diameter is 43cm)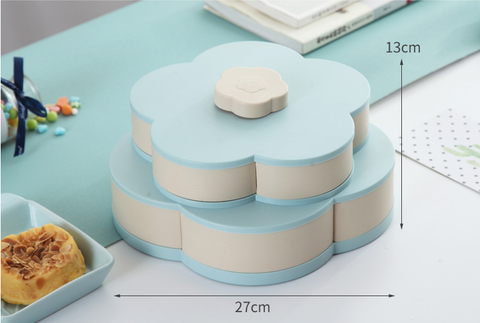 Product Includes
1 x Rotating Candy Box ( 2 layer )