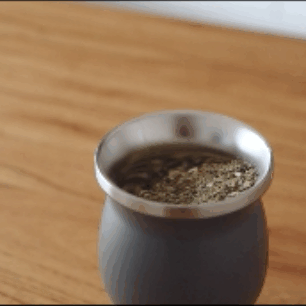 COMPLETE HIGH QUALITY SET: Our Stainless Steel Yerba Mate Gourd Tea Set Includes; One Modern Mate Gourd cup, one Stainless Steel Bombillas straw and a cleaning brush. Great for everyday personal use or as a unique and thoughtful gift. MEASUREMENTS - The Gourd is 3 inch I 8 cm Tall - Contains 8 oz I 250 ml. The Bombillas are 6.5 Inch Long I 16 Cm.

TEMPERATURE CONTROLLER: The Double walled technology will hold your preferred temperature keeping the beverage warm or cold for a long time. Suitable for all seasons, the outside temperature will not transfer inside the gourd!

EASY TO PREPARE, CLEAN & MAINTAIN: This modern Yerba Mate Tea Gourd Cup Set is very easy to use and even easier to clean. Made of top quality 304 18/8 Stainless Steel, this Yerba Mate cup is safe and designed to last!

RICH HISTORY & KNOWN-BENEFITS: The Gourd is the traditional method used by millions around the world to enjoy Yerba Mate tea. A Beverage rich in antioxidants and nutrients that can naturally boost your energy and improve your mental focus. As it is said to offer, "the strength of coffee, the health benefits of tea, and the euphoria of chocolate".
Packing includes:
Cup*1
Brush*1
Spoon*1